Today is a very special day...because a year ago today was the day that I started this website and made my very first post! AmericanGirlFan is now 1 year old!!! It has been an amazing first year having my website! AmericanGirlFan is way much more than I ever imagined it would be, you all are awesome! :D
I thought it would be fun to show you my favorite things I did on my website during the first year...
My first photostory ever!
Making a doll tee at Michaels in September.
First time fixing up an American Girl doll in need of Tender-Loving Care...
...and making her beautiful again!
My dolls (and my sister Hope's doll's) first protest. (To not make Samantha and Nellie leave)
During my first year having my website we have also celebrated quite a few seasons and holidays...
and Earth Day!
We have also had many adventures...
Adventures in the backyard.
 Adventures in the Attic.
 And also, "Mini" Adventures. :)
It was so much fun looking back at all the posts I have done, trying to pick the most memorable ones.
I can't wait to see what the 2nd year holds! :)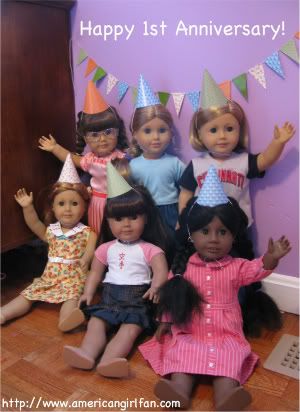 Happy 1st year Anniversary Americangirlfan.com! :)