A few weeks ago my family and I went on a mini-vacation to American Girl Place Chicago!!! It was SO much fun! We also saw one of the exclusive showing of Kit Kittredge:An American Girl! I had such a Great time! Here are some pictures of our trip: (Captions for pictures underneath picture.)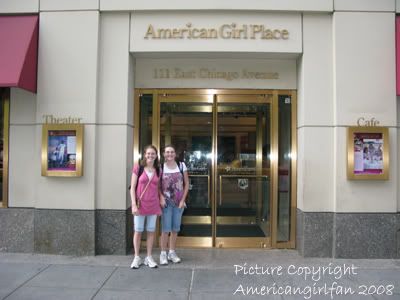 Here I am with my sister Hope in front of the American Girl place building. (I am on the left, Hope on the right)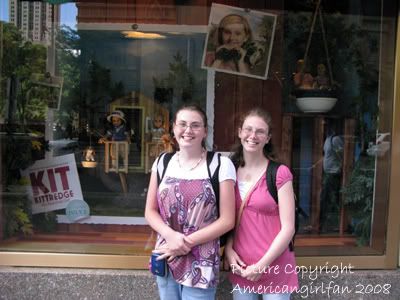 Here we are in front of one of the display windows in the front of the building.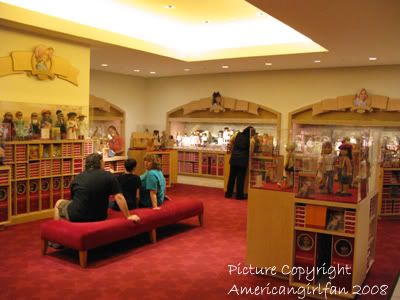 The Historical doll section.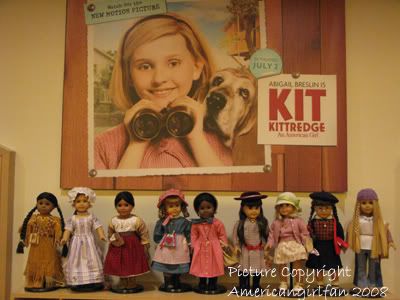 The nine Historical American Girl dolls. (Not including the best friend dolls)
They also had "A peek into the past" historical windows: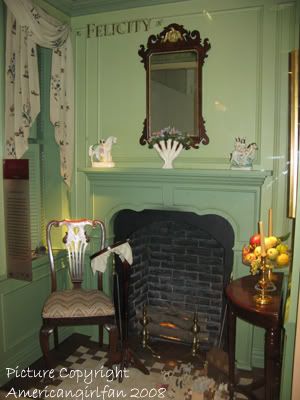 Felicity's Window.
Josefina's Window.
Kirsten's Window.
Addy's Window.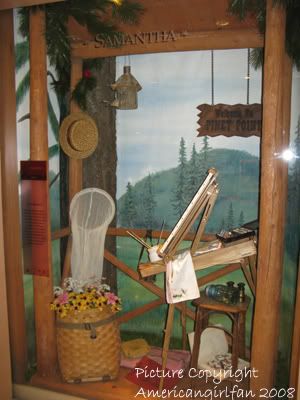 Samantha's Window.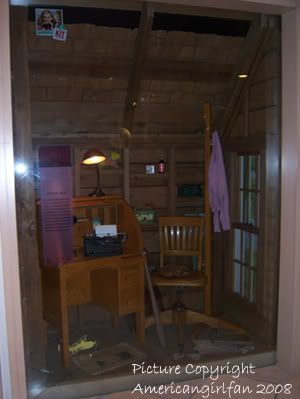 Kit's Window.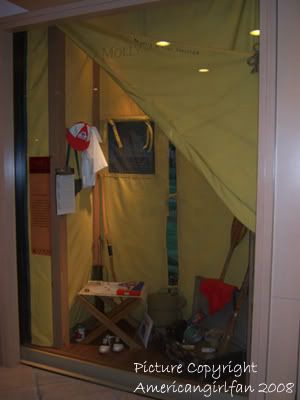 Molly's Window.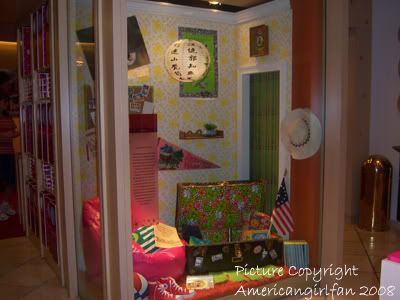 And Julie's window.
Here are pictures of The doll windows: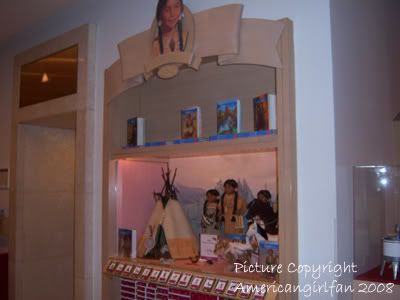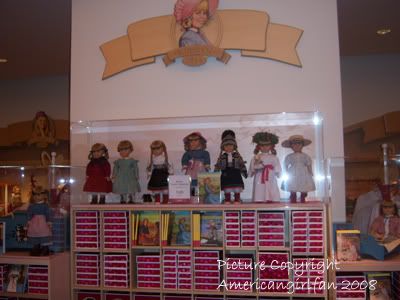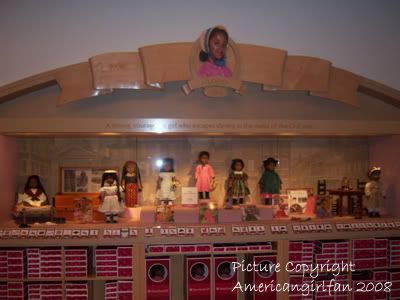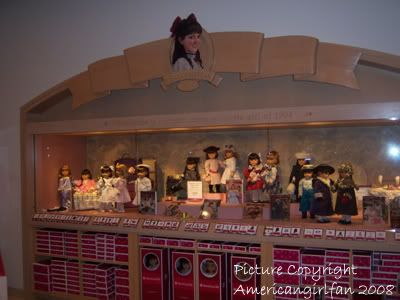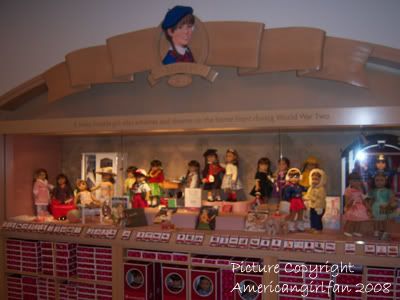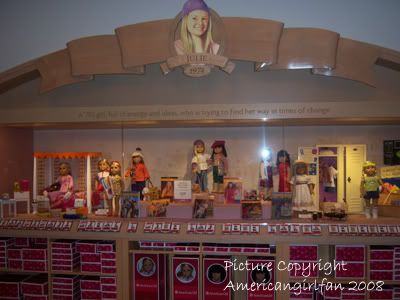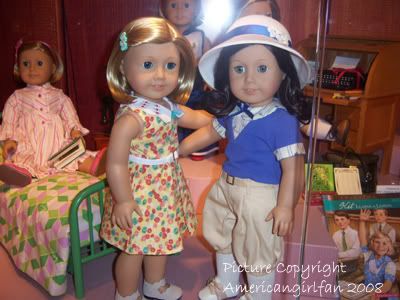 Kit and Ruthie. :)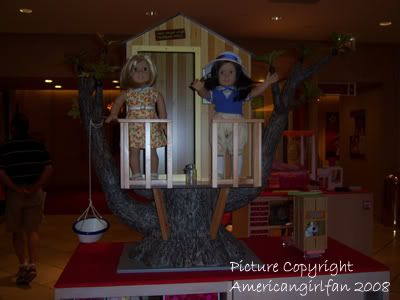 Kit's New and Huge Treehouse!
Some more new Kit movie items.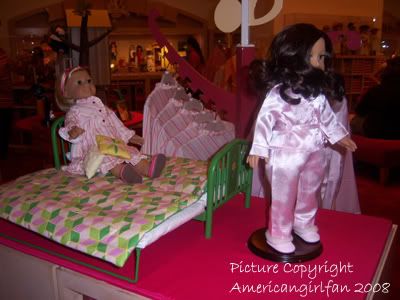 Kit and Ruthie's Sweet pjs. ;)
Penny, Felicity, and Elizabeth.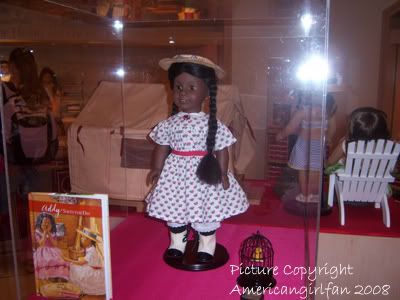 Addy.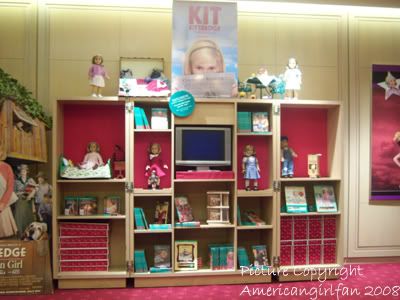 The Kit Movie section. :)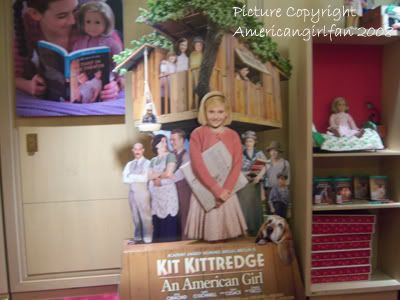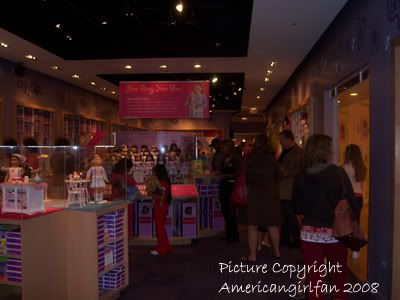 We went upstairs to the Just like You doll section. (This is only part of it!)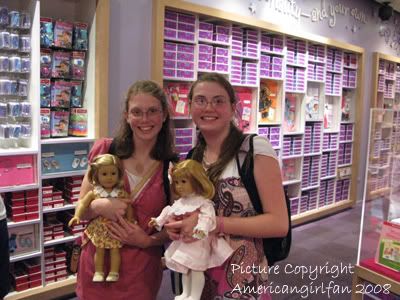 Here is me and Hope in the JLY section.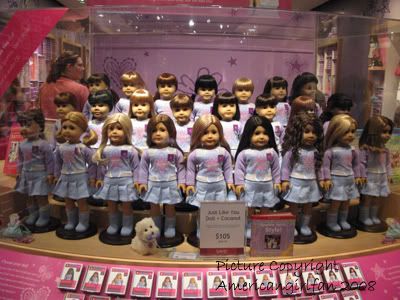 All of the Just Like You dolls and Coconut too!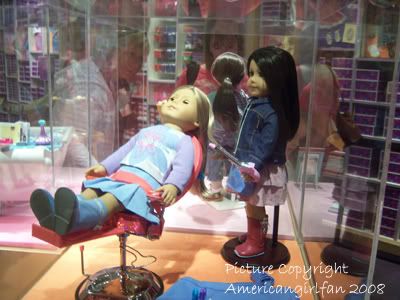 A cute display. :)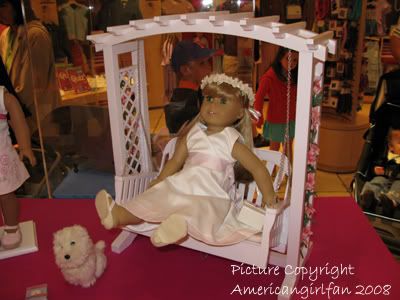 Too cute!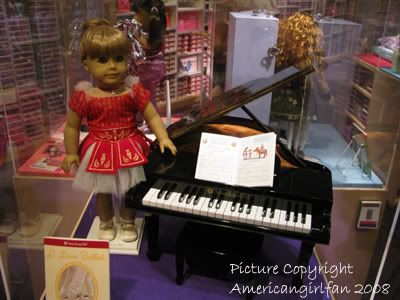 I like this outfit and the piano is Really cool too!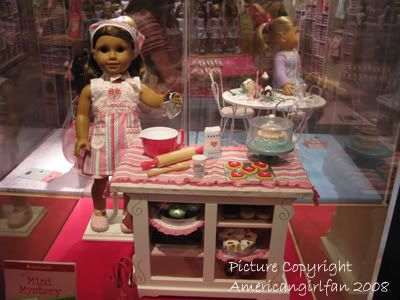 I Love American Girl doll sized food and treats!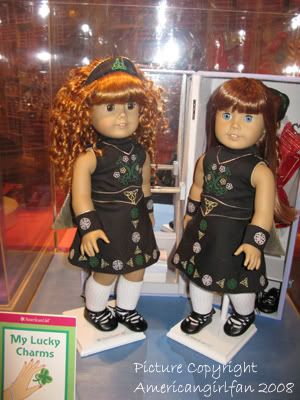 This is pretty cute!
A really cool and expensive storage cabinet!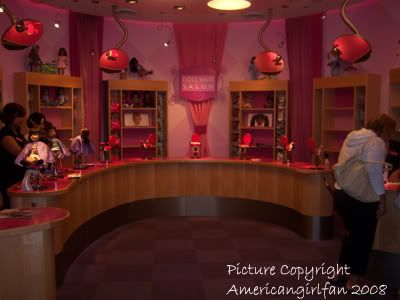 The doll Hair Salon!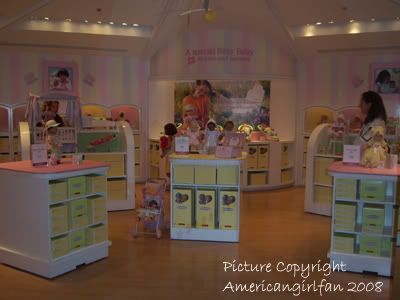 Part of the Bitty Baby section. :)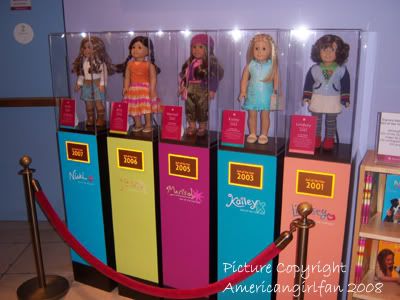 The past Girl of the Year dolls.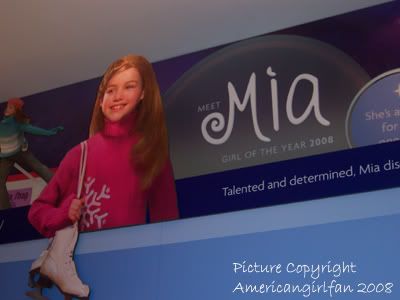 The Mia sign in the Girl of the year section.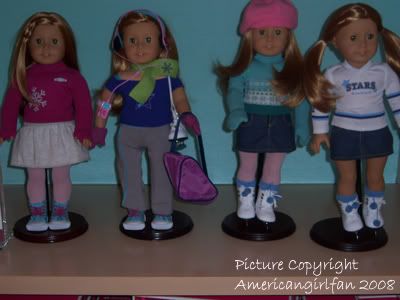 4 Mias in cute outfits.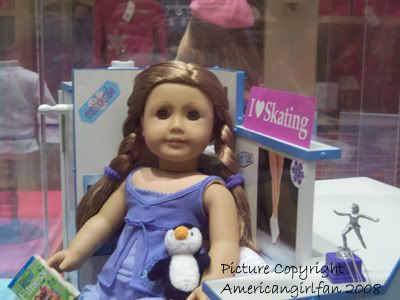 Mia in her Pjs.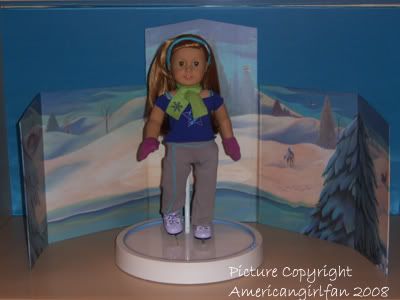 Mia again! :)
Then we left and went to the AMC Theater to Watch the Exclusive Showing of Kit Kittredge: An American Girl at 2:30 Chicago time.
Here I am with Kit waiting for the Movie to start. :)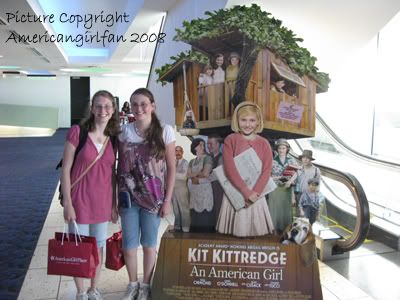 Here is me and Hope next to the Kit Kittredge cute movie 3-D poster.
After we watched the movie we went back to American Girl place to enjoy dinner in the cafe.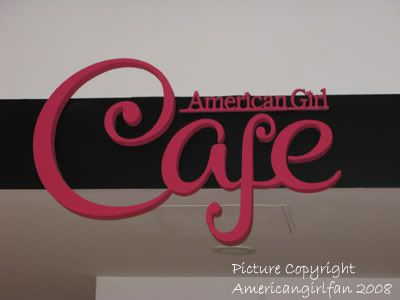 The American Girl Cafe fancy sign.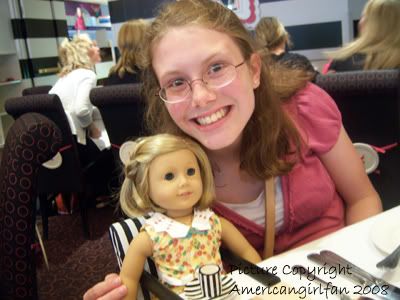 Here I am at the Cafe with Kit.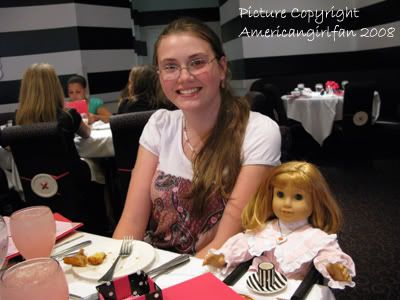 Here is Hope in the Cafe with Nellie.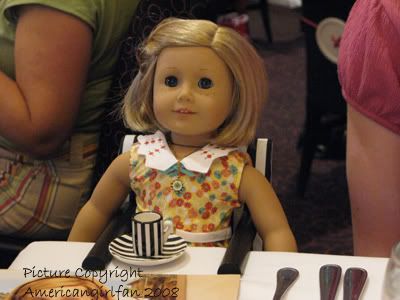 Kit is enjoying the cafe.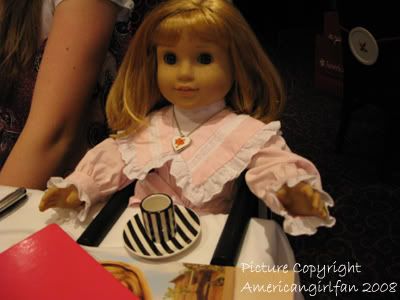 Nellie is enjoying it too.
Here is my meal I got, The American Girl Pasta. (Yum!)
Then after dinner we got a poster to take home and some other Kit movie goodies too! We left after the dinner and went back to our hotel. It was Such a Wonderful day! :)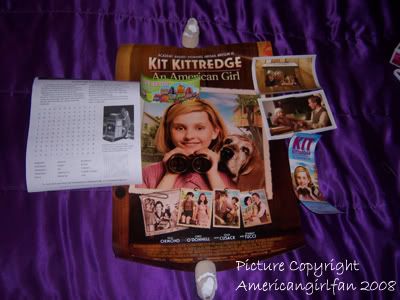 Here is the Poster and other Movie goodies! (We didn't get shoes, I had to put them there to hold down the poster.) We also got a Kit movie program, but I didn't take a picture of it
Here are the things I got at American Girl Place:
I got Kit's Floral-print dress for Kit.
Kit's Nightie for Kit.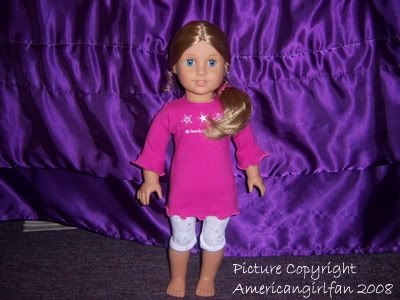 American Girl Place Pjs for any of my dolls, but Elizabeth likes them.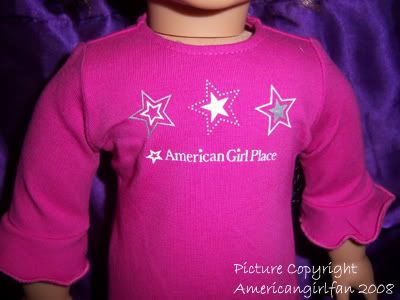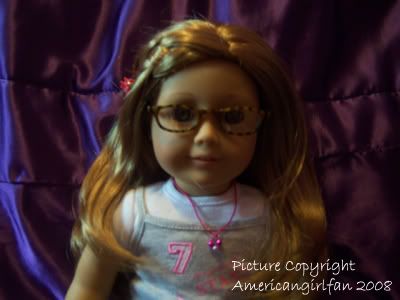 I got rectangle glasses for any of my dolls, Mia likes them though.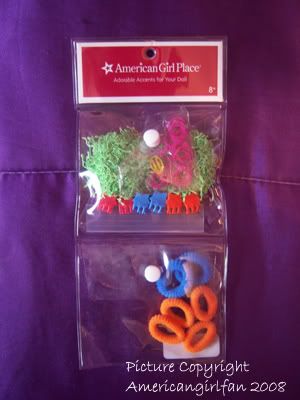 I got American Girl place Hair things for my dolls. (Some hair bands are missing in the bottom because I used some.)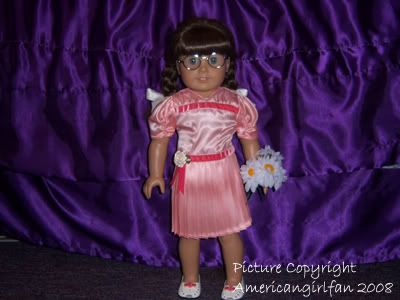 And I couldn't forget Molly she enjoyed having her hair done with my new AG hair things above. Also, she Really likes the pretend Flowers we got with our desserts at the cafe.
I had such a Wonderful Great time! I hope you enjoyed the pictures! Oh, I have one last Picture!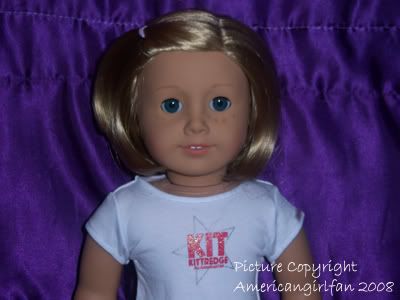 Kit Really enjoyed Her movie!!! :)