Hi Girls! I'm back with a brand-new Q & A video to share with you! Thanks again for all your questions, I loved them! (You can see the answers below too)
Q: What is your favorite blogging category, photoshoots, crafts, ect? ~Kathryn
A: I absolutely love photoshoots! I sometimes spend hours taking doll photos, because I like it so much and lose track of time. I also love making my crafts, I've always enjoyed crafts. My mom would pull out lots of craft supplies when I was younger and I thought making something out of a few materials was so cool! Whenever you all share your opinions and we have discussions, that's fun too. Really everything I do here on AmericanGirlFan, I love!
Q: What are some tips for saving up for an American Girl doll? ~God'sGirl
A: Yay, that's so awesome you are saving up! The #1 way to save is to not spend. Put that extra money away in a safe place so that your not tempted to use it. And, this is silly, but don't have any money in your purse or wallet. If you don't have it with you, you can't spend it! Some other ways you can save money is by keeping the money you get for your birthday or christmas, or ask for money instead of an item. Ask your parents or family if you could do extra chores or things around the house that could go towards your savings. It's great to learn how to save now! I also did a post awhile back on this, you can see it here: http://www.americangirlfan.com/2012/02/ways-to-save-for-american-girl-items.html Hope you have fun with your new doll, saving will be so worth it! :)
Q: Have you ever returned an AG product? What was it? Did you get something new instead? ~FlowerGirl
A: I've never had to return an American Girl product through the mail. But, back in 2006 on my first trip to the Chicago AG store, I had bought Elizabeth's Holiday Gown. Though, when I opened it up in the store, I saw I had Felicity's instead! So, we went up to the counter to exchange it, but one of the workers had told us that Elizabeth's Holiday Gown wasn't available. (I freaked out a little inside since I wanted it, haha) That person had been wrong though and I eventually got the dress...whew, how tedious! I know my parents have had to return AG items they had gotten me for Christmas before. That makes sense though, since American Girl is extremely busy during the holiday season!
Q: Where do you want to live when you grow up and why? ~Kate
A: Kentucky! haha I'd like to stay in Kentucky, since this is where most of my family lives and where my people are. If I did move far away, I'd live in Tennessee, since that is one of my favorite states...so gorgeous there! But, yes, I'd like to live not too far away from my parents so I can still talk with them and visit when I'm married and have my own kids. :)
Q: Would you reccommend Josefina? Me and my friend want her for Christmas? ~Lainey
A: Yes, totally! Josefina is such a beautiful doll and her hair is so silky. Hope has an older Josefina and I know the new one is just as pretty. I hope you have lots of fun with her if you get her!
Q: Do you have any tips on keeping your doll clean during photoshoots? ~AJ
A: For outdoor photos, bring an American Girl doll hairbrush with you. Dolls can get a lot of fly aways, especially if it's windy. Also, be careful if your doll falls in the grass, because sometimes grass stain can get on your doll's skin. That can easily come off with some soap and water though. :) For indoors, my dolls don't usually get too messy unless I'm using some crazy props (like pumpkins for instance.) Just keep your doll's hair looking nice since that can really enhance a photo. The doll's face is the first thing we see and if she's having a bad hair day it can effect the picture. Hope this helps! :)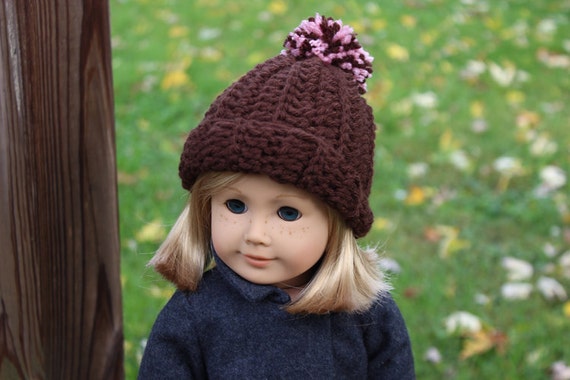 In the video I talked about my mom's new crochet hats you can buy on her Etsy shop. They are so cute!! Be sure to take a look at them here:
http://www.etsy.com/shop/smilingrabbit
Well, that's a wrap for this Q &A! Thanks for your questions! Feel free to comment below with more questions you'd like me to answer.
"See" you next week! ;)